SnowDogg by Buyers Snow Plows & Parts at Angelo's Supplies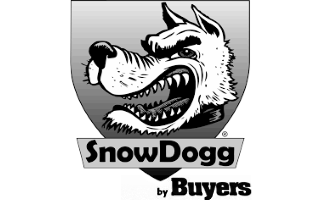 On this page you will find access to the entire line of SnowDogg Snow Plows and parts that we carry here at Angelo's. SnowDogg plows are manufactured by Buyers right here in the United States and are arguably the best quality snow removal equipment available on the market today. The plows come standard with stainless steel construction meaning they have unmatched durability and performance, and they won't rust! These plows look and feel great on your truck. We have SnowDogg plows that will work for almost any make or model of vehicle, as well as UTV, SKTE, and ATV mounted options.
Please call 1-877-ANGELO-2 today for more details about what SnowDogg snow plow is right for your work load. It will be extra helpful if you have the following information about your vehicle ready for the call:
Year
Make
Model
Drive Train 4x2, 4x4
Body Style (Regular, Crew, Extended or Mega Cab)
Bed Size
Engine (Gas, Diesel)
Headlight Bulb Size ( on headlight inscribed on lens)
Single or Dually Rear Wheel
FGAWR, RGAWR, GVWR (all can be found on Driver Door)
Snow Plows by SnowDogg® Feature the Highest Quality Components for Unmatched Durability and Performance.
REPLACEMENT PARTS
If you currently own any SnowDogg snow and ice removal equipment offered and require parts, our parts inventory is conveniently organized by product groups including Blade Guides, Cutting Edges, Lift Cylinders, Drag Chains, Driveway Stakes, Hydraulic Hoses, Hydraulic Oil, Lights, Spreader and Plow Motors, Pro Wings, PlowDollies, Snow Plow Deflectors, Plow Paint,Snow Shovels, Spreader Bearings, Spreader Spinner Disks, Trip Springs, and Truck Accessories.

Additionaly Angelos still does carry parts for old or discontinued plow models so be sure to call today if you have any questions about replacement parts at 1-800-264-3562

Angelos can supply snow and ice removal equipment and parts from all the top brands in the industry. Check out what we offer from other manufactuers here including Boss, SaltDogg, Meyer, Snow-Ex, Fisher, Blizzard, and MORE

-->