SnowDogg by Buyers Snow Plows & Parts at Angelo's Supplies / SiteOne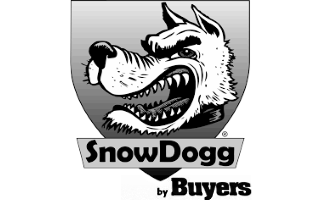 Snow Plows by SnowDogg® Feature the Highest Quality Components for Unmatched Durability and Performance.
Snowdogg plows are manufactured by Buyers right here in the United States and are arguably the best quality snow removal equipment available on the market today. The plows come standard with stainless steel construction meaning they have unmatched durability and performance, and they won't rust! These plows look and feel great on your truck. We have snowdogg plows that will work for almost any make or model of vehicle, as well as UTV, SKTE, and ATV mounted options. Please call 1-877-ANGELO-2 today for more details about what Snowdogg snow plow is right for your work load. It will be extra helpful if you have the following information about your vehicle ready for the call:
Year
Make
Model
Drive Train 4x2, 4x4
Body Style (Regular, Crew, Extended or Mega Cab)
Bed Size
Engine (Gas, Diesel)
Headlight Bulb Size ( on headlight inscribed on lens)
Single or Dually Rear Wheel
FGAWR, RGAWR, GVWR (all can be found on Driver Door)
Searching for Snowdogg Plow Dealers?
With the perils of winter weather right around the corner, you may already be thinking ahead to the important task of snow removal. The accumulation of dangerous amounts of snow and ice can create hazards on your property that can leave you legally responsible if someone else gets injured or suffers bodily harm.
Whether you are interested in removing snow from your own property or you are part of a commercial snow removal operation, you likely understand that the major tools involved in getting the job done are an investment worth making. As with any investment, however, you want to ensure you purchase the product that's best suited for your specific needs.
If you're considering a Snowdogg plow for sale, you may have some important questions surrounding these snow plows. The information below is designed to tell you a bit more about Snowdogg plows and the powerful resources available from snowdogg plow dealers.
What Are Some Benefits of Snowdogg Plows?
When moving potentially dangerous snow from roads and sidewalks, the most important concern you likely have is ensuring the plow you choose is capable of carrying out the task at hand. Snowdogg plows are made in the United States and are some of the hardiest, most well-built plow equipment available on the market today.
In fact, Snowdogg plows come equipped with stainless steel anti-rust construction, providing years of reliable use with one easy purchase. If you're looking for a snow plow of exceptional quality that is manufactured right here at home, you've certainly come to the right place.
Why Get a Snowdogg Plow?
Snowdogg plows are not only among the best plow equipment in terms of durability and performance, but they also have a fantastic aesthetic appeal. It's also important to note that Angelo's Supplies offers a wide variety of Snowdogg plows to ensure that you will find one that easily works with the make and model of the vehicle you'll be using it with. We provide all replacement parts, wiring, and hydraulic units for use with these plows as well and can assist you with all of you winter snow plow needs.
How Much Does it Cost?
Concerned about the cost involved in purchasing a new snow plow from Snowdogg? Snowdogg plows are of the highest quality while still remaining affordable for the average individual. As you know, the removal of dangerous accumulations of snow is a vital part of preventing injuries and being liable for accidents that occur on your property. You can't truly put a price on safety, peace of mind, and keeping yourself and your property free from lawsuits.
That said, the professionals at Angelo's Supplies can help you choose the snow plow that's best suited for your specific needs and budget. We also offer replacement parts for older and discontinued models as well, providing you with helpful solutions to all your winter weather needs.
Whenever cold weather strikes, it can bring along snow and ice that create potentially perilous road conditions and safety hazards. Whether you want to clear the sidewalks surrounding your home for the safety of your loved ones or you perform this task for others in a commercial setting, you definitely want a quality product to get the job done right. If you're searching for a Snowdogg plow for sale or Snowdogg plow parts for an existing plow, the professionals at Angelo's Supplies can lend a helping hand.
When searching for Snowdogg plow dealers, you want someone experienced and trustworthy. The knowledgeable staff at Angelo's Supplies can provide you with the equipment and Snowdogg plow parts to allow you and your family to experience a joyous and safe winter holiday season.
SnowDogg Plow Series
The MD Series stands for Medium Duty and is the perfect sized plow for personal home use, small businesses, or smaller commercial outfits. It offers both durability and dependability while being compatible with lighter duty trucks and SUV's. Additionally due to it's medium duty design most trucks will not require OEM plow mount packages to be compatible with these options.
A step up from Medium Duty is the Buyers SnowDogg HD Series Snowplow line. These Heavy Duty plows are then followed by the second option available for contractors looking for a step up, Buyers Snowdogg EX Series Snowplow line. EX stands for Extreme Duty so you can probably imagine the intention here! These plows series are both engineered specifically with contractors in mind. For bigger jobs they also include a plow wing add on that immediately can add a full 24" to your plow width! Anyone who relies on their equipment to get the job done should not look past the HD/EX Series.
The TE Series line brings the best of both the HD/EX plows into a Trip Edge Design. This means that deflectors and shoes come standard as well as an upgraded cutting edge. This all works together to make sure that more snow stays in front of your plow for a more consistent performance.
If you are operating with a medium duty truck and you need to biggest plow available then look no further than Buyer's SnowDogg CM series Snowplows. These are designed specifically for medium duty trucks and scaled up commercial or municipal applications. Fortified with 6 trip springs and ample quadrant/sector size the CM 100 will never disappoint!
Not all jobs come in perfect rectangle shapes! If you need to get creative in the field with touch curves and tight spaces then look no further than the VMD, VXF, UTV, and SKTE plow options.
SnowDogg really does cover all the bases!
SnowDogg Snow Plow Parts
If you currently own any SnowDogg snow and ice removal equipment offered and require parts, our parts inventory is conveniently organized by product groups including Blade Guides, Cutting Edges, Lift Cylinders, Drag Chains, Driveway Stakes, Hydraulic Hoses, Hydraulic Oil, Lights, Spreader and Plow Motors, Pro Wings, PlowDollies, Snow Plow Deflectors, Plow Paint,Snow Shovels, Spreader Bearings, Spreader Spinner Disks, Trip Springs, and Truck Accessories.

Additionaly Angelos Supplies / SiteOne still offers parts for old or discontinued plow models so be sure to call today if you have any questions about replacement parts at 1-800-264-3562

Also don't forget that our inventory is not limited to plows manufactured by SnowDogg! Angelos Supplies / SiteOne can supply snow and ice removal equipment and parts from all the top brands in the industry. Check out what we offer from other manufactuers here including Western, SaltDogg, Meyer, Snow-Ex, Fisher, Blizzard, and BOSS

-->