SaltDogg by Buyers Salt Spreaders & Parts at Angelo's Supplies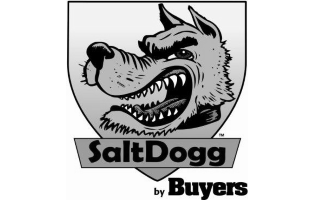 Prepare your fleet and battle the elements with SaltDogg®: Leader of the Pack
Mean on Ice, Man's Best Friend
With SaltDogg® by Buyers' extensive line of Tailgate, V-Box and Walk Behind Spreaders you will be sure to stay one step ahead of the elements. 100 plus spreaders have proven to be tough and reliable enough to represent the SaltDogg name. No matter your application, from SUV, 1/2-ton, 3/4-ton to municipal there is a SaltDogg for you.
SaltDogg Spreaders and Parts at Angelo's Supplies
On this page you will find the entire line of SaltDogg products that we carry here at Angelo's. SaltDogg, by Buyers, provides a wide array of ice removal equipment with spreaders ranging from 100 lbs. to 16 yd capacity. SaltDogg spreaders range from basic Walk-Behind , to electric drive, gas powered, or hydraulic drive equipment. Click on the images below to choose between Tailgate, Under Tailgate, or Poly Electric spreaders as well as all the parts associated with each option. Also be sure to check out options for ATV and SUV spreaders. Remember if you have any questions at all about what set up could be ideal for your situation please don't hesitate to call Angelo's at 1-877-Angelo-2
If you currently own a SaltDogg Salt Spreader and need to complete some repairs, you can find all the appropriate replacement parts to keep your rig running at optimal condition. All parts are manufactured by SaltDogg right here in the United States. Additionaly Angelo's still does carry parts for old or discontinued models so be sure to call today if you have any questions about replacement parts at 1-800-264-3562
Our parts inventory is conveniently organized by product groups including Blade Guides, Cutting Edges, Lift Cylinders, Drag Chains, Driveway Stakes, Hydraulic Hoses, Hydraulic Oil, Lights, Spreader and Plow Motors, Pro Wings, PlowDollies, Snow Plow Deflectors, Plow Paint,Snow Shovels, Spreader Bearings, Spreader Spinner Disks, Trip Springs, and Truck Accessories.
Buyers Manufactures an entire line of Poly Electric Salt Spreaders as part of the SaltDogg salt spreader line. These are mainly powered by an electric motor gearbox combination that provides ease of use and excellent performance and the capacity ranges from ¾ up to 4 cubic yards. Poly is hands down the best material available for construction of salt spreaders surpassing stainless steel by leaps and bounds. Poly is best known for being 100% rust free, that's right it WILL NOT RUST no matter how much salt and wear accumulates over the years. It is also lifted by a one piece design that avoids the weak spots of welded metal and is much lighter in weight. This means that installation and removal are quicker and easier! This lighter weight material makes it possible to get larger and larger spreaders into smaller and smaller trucks. Poly spreaders should always be considered when making your next purchase.
There are of course many other spreader options out there such as Poly Electric, Under Tailgate, Stainless Steel Hopper, ATV, and SUV mounting systems as well as much more information available from our experts on site. Please do not hesitate to call with any questions at 1-877-ANGELO2
Also don't forget that our inventory is not limited to spreaders manufactured by SaltDogg! Angelo's can supply snow and ice removal equipment and parts from all the top brands in the industry. Check out what we offer from other manufactuers here including SnowDogg, Western, Meyer, Snow-Ex, Fisher, Blizzard, and BOSS