SaltDogg by Buyers WB100B Walk Behind Broadcast Salt Spreader and Parts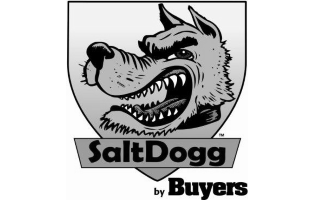 SaltDogg®: Leader of the Pack, Mean on Ice, Man's Best Friend
On this page you will find the product line of Buyers SaltDogg WB100B Walk Behind Broadcast Salt Spreader series that is offered here at Angelo's. These spreaders really walk the talk, engineered to be both durable and reliable! As always if you have any questions at all regarding the utility of these spreaders, shipping information, parts and accessories, or more please do not hesitate to get in touch with the pros at Angelo's today at 1-877-ANGELO-2
If you currently own a SaltDogg WB100B Walk Behind Broadcast Salt Spreader and need to complete some repairs, you can find all the appropriate replacement parts to keep your rig running at optimal condition. All parts are manufactured by SaltDogg right here in the United States. Additionaly Angelo's still does carry parts for old or discontinued models so be sure to call today if you have any questions about replacement parts at 1-800-264-3562
Our parts inventory is conveniently organized by product groups including Blade Guides, Cutting Edges, Lift Cylinders, Drag Chains, Driveway Stakes, Hydraulic Hoses, Hydraulic Oil, Lights, Spreader and Plow Motors, Pro Wings, PlowDollies, Snow Plow Deflectors, Plow Paint,Snow Shovels, Spreader Bearings, Spreader Spinner Disks, Trip Springs, and Truck Accessories.
SaltDogg WB100B Walk Behind Broadcast Salt Spreaders and Replacement Parts
FEATURES
One piece fully-welded steel frame.
Large 1.5 cu. ft. polymer hopper.
Capacity: 100 lbs of bagged salt, sand, or other free flowing materials.
Large 13" pneumatic tire make pushing through slush and ice a breeze.
Adjustable spreader path from 3ft. – 30ft.
Large flow regulator on handle offers ease of operation.
Solid control linkage eliminates sticking and stretched cables.
3-flap adjustable poly deflector controls spread pattern (ideal for sidewalks, near sensitive foliage, etc.).
Additional fixed rear deflector protects operator's feet.
Expanded metal hopper screen helps prevent material jamming.
Includes a durable, double stiched plastic rain cover to protect from moisture and spillage.
Heavy-duty stainless steel gears for added strength.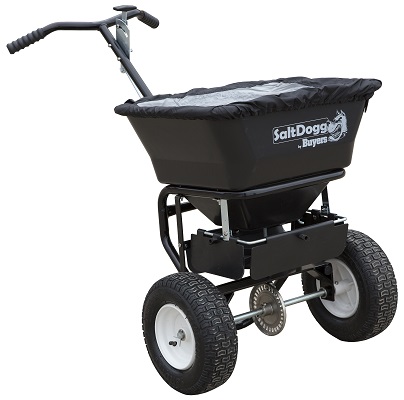 | | |
| --- | --- |
| Location | Item Lookupcode |
| 03 | 3009162 |
| NS | 3015357 |
| 18 | 3021435 |
| 19 | 3012696 |
| 20 | 3024674 |
| 21 | 3021432 |
| 22 | 3015355 |
| 12 | 3010870 |
| 14 | 3010871 |
| 07 | 3009160 |
| 08 | 3010878 |
| 10 | 3010879 |
| 02 | 3010874 |
| 13 | 3012680 |
| 17 | 3012704 |
| 15 | 3008813 |
| 09 | 3010880 |
| 11 | 3014857 |
| 03 | 3012703 |
| 01 | 3010868 |
| 04 | 3012700 |
| 05 | 3008142 |
| 06 | 3011734 |
| NS | 3007874 |
| 16 | 3012695 |
| NS | 3007873 |
| NS | 3007993 |
22 products in this category, displaying products 1 to 22.

-->