SaltDogg by Buyers Walk Behind Broadcast Spreaders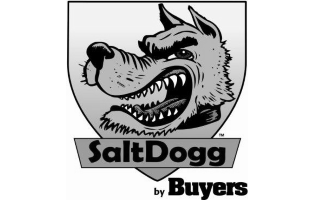 SaltDogg®: Leader of the Pack, Mean on Ice, Man's Best Friend
On this page you will find the product line of Buyers SaltDogg Walk Behind Broadcast series that is offered here at Angelo's Supplies / SiteOne. These spreaders are ideal for commercial users who rely on their equipment to operate when they need it. They are also excellent for municipal use, these spreaders really walk the talk, designed specifically for scaled up commercial or municipal applications and engineered to be both durable and reliable!
If you have any questions at all about which spreader is right for your particular use do not hesitate to call Angelo's with any releveant information about your needs. We are here to make your purchase as easy and seamless as possible. You can also reach us by the live chat function on this page or by sending a message from our Contact Page. Whatever form of communication is easiest for you, we are available! Again and as always if you have any questions about how Buyer's SaltDogg Walk Behind Spreaders will work for your situation don't hesitate to call Angelo's at 1-877-ANGELO-2
SaltDogg Salt Spreaders and Replacement Parts
If you currently own a SaltDogg Salt Spreader and need to complete some repairs, you can find all the appropriate replacement parts to keep your rig running at optimal condition. All parts are manufactured by SaltDogg right here in the United States. Additionaly Angelo's still does carry parts for old or discontinued models so be sure to call today if you have any questions about replacement parts at 1-800-264-3562
Our parts inventory is conveniently organized by product groups including Blade Guides, Cutting Edges, Lift Cylinders, Drag Chains, Driveway Stakes, Hydraulic Hoses, Hydraulic Oil, Lights, Spreader and Plow Motors, Pro Wings, PlowDollies, Snow Plow Deflectors, Plow Paint,Snow Shovels, Spreader Bearings, Spreader Spinner Disks, Trip Springs, and Truck Accessories.