SaltDogg by Buyers Under Tailgate Salt Spreader Series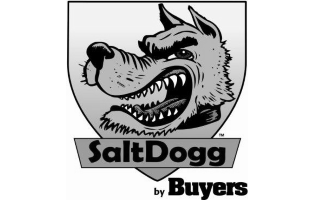 Undertailgate mounting allows normal use of the dump body, without interference from the spreader. Now available with electric drive or hydraulic drive.
On this page you will find the product line of Buyers SaltDogg Under Tailgate Salt Spreader series that is offered here at Angelo's. Under tailgate spreaders provide massive potential to increasing the usefulness of a dump truck or other large municipal vehicle. Get year round use of this asset by installing an under the tailgate spreader system! Here at Angelos we offer both hydraulic and electric under tailgate spreader system. Each has it's inherent benefits and both may be right for your particular situation.
If your vehicle has a central hydraulics system you may elect to use this to power your spreader. In the event that you do not want to burden your hydraulic system with this, or if you do not have a central hydraulics system, the under the tailgate electric spreader is there for your needs. Both situations have served our customers in a high quality fashion for many years and we would be happy to discuss the pros and cons in each scenario. Please do not hesitate to call today with any questions about the great features offered here. As always if you have any questions at all regarding the utility of these spreaders, the compatibility with your vehicle, shipping information, parts and accessories, or more please do not hesitate to get in touch with the pros at Angelo's today at 1-877-ANGELO-2
Under tailgate spreaders often feature an adjustable spinner frame that allows you to easily manipulate the height of the spreader. This can come in very handy when considering the multitude of vehicle configurations that are encountered. The spreader design is intended for ease of installation and removal. The specific height and placement can be set up to allow for easy dump capability for your dump truck with absolutely no spreader interference. And don't forget that this technology can be used year round as a sand spreader or employed for other spread material. This doubles down on your investment in this snow and ice removal equipment system.
Reliability is always a goal when considering the equipment that we carry here at Angelos. Stainless steel design and engendering intent for optimization has produced a very high quality product for our consumers in this case and in all products that we elect to carry. This includes and is not limited to marine grade electrical connection seals, explosion proof spinner motor design, powder coating for great durability, and more!
SaltDogg Under Tailgate Salt Spreader Replacement Parts
If you currently own a SaltDogg Under Tailgate Spreader and need to complete some repairs, you can find all the appropriate replacement parts to keep your rig running at optimal condition. All parts are manufactured by SaltDogg right here in the United States. There really is much more to learn about spreaders, and of course the multitude of other ice removal equipment systems that we carry here at Angelo's. Angelo's does also carry a wide array of parts for these spreaders and for other equipment. Additionaly Angelo's still does carry parts for old or discontinued models so be sure to call today if you have any questions about replacement parts at 1-800-264-3562

Our parts inventory is conveniently organized by product groups including Blade Guides, Cutting Edges, Lift Cylinders, Drag Chains, Driveway Stakes, Hydraulic Hoses, Hydraulic Oil, Lights, Spreader and Plow Motors, Pro Wings, PlowDollies, Snow Plow Deflectors, Plow Paint,Snow Shovels, Spreader Bearings, Spreader Spinner Disks, Trip Springs, and Truck Accessories.

-->