SaltDogg by Buyers Tailgate Salt Spreaders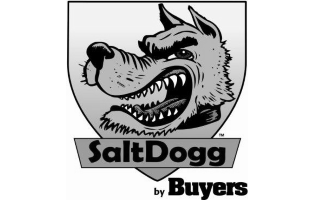 The most cost-effective high quality tailgate spreaders in the industry.
On this page you will find the product line of Buyers SaltDogg Tailgate Salt Spreader series that is offered here at Angelo's Supplies / SiteOne. Choose between receiver hitch or custom above and below bed options. A tailgate spreader is known for the excellent benefit of leaving the bed of the truck completely unoccupied allowing for your operation to load all the supplies it needs while still carrying this salt/sand spreading capability. If you have any questions at all about what spreader option is right for you please do not hesitate to call the pros at Angelos at 1-877-264-3562
If you currently own a SaltDogg Tailgate Spreader and need to complete some repairs, you can find all the appropriate replacement parts to keep your rig running at optimal condition. All parts are manufactured by SaltDogg right here in the United States. Additionaly Angelo's Supplies / SiteOne still does carry parts for old or discontinued models so be sure to call today if you have any questions about replacement parts at 1-800-264-3562
Our parts inventory is conveniently organized by product groups including Blade Guides, Cutting Edges, Lift Cylinders, Drag Chains, Driveway Stakes, Hydraulic Hoses, Hydraulic Oil, Lights, Spreader and Plow Motors, Pro Wings, PlowDollies, Snow Plow Deflectors, Plow Paint,Snow Shovels, Spreader Bearings, Spreader Spinner Disks, Trip Springs, and Truck Accessories.
SaltDogg Tailgate Salt Spreaders and Replacement Parts
The Saltdogg TGS01B by buyers is the perfect option for residential or home use. If you are interested in a personal spreader the one pass coverage and easy mounting system offered here are huge benefits. This spreader will be fine with virtually all trucks or SUVs and is lightweight for no hassle operation as well shipping.
The next step up is Buyers SaltDogg TGS02. This spreader is ideal for light commercial use and is compatible with most SUVs, ½ ton, ¾ ton and 1 ton pickup trucks. It boasts a pollyhopper and steel frame as well as variable speed control and a vibrator switch. The horizontal auger feed makes this a great option for contractors that have small to mid sized jobs.
Still looking for more? The TGS03 is a clear upgrade. This spreader features all the benefits of an auger driven V box design and has the added luxury of easy mounting directly on your tailgate. While V-box spreaders tend to be limited in the material that can be applied this open-auger system gives commercial operations and contractors many more options for spreading material. This spreader is best suited for ¾ ton or 1 ton pickup trucks.
Another very widely used spreader is the TGS05B. This spreader, previously known as just TGS05, is designed with a "permanent" mounting system. This does not mean you have to leave it on your truck forever but rather that the spreader bolts directly to the step bumper. Additionally reinforcement comes with two top side support arms that bolt to the top of the pickup bed rails. The design is certainly more rugged and can be very well suited for large demanding jobs. There is also an optional swing gate that allow the spreader to be swung out of the tailgate for easy loading of materials and supplies. All these features make it one of the top selling spreaders on the market today.
The TGS06 is another great spreader option that provides more versatility to fit specific contractor needs. 10 cubic foot capacity and a poly hopper design are ideal for operations that need to be able to change plans quickly and be ready for anything that mother nature throws at them. The powder coated steel frame looks great and lasts. THere is also a universal stake pocket attachment and an 80 lbs. Vibrator kit that comes installed. This spreader mounts to any 2" hitch receiver.
Finally the TGS07, much like the TGS03, is a great option for contractors who need the benefits of an auger driven V box system but are interested in the easy use of a tailgate mounting design. Get the both of best worlds with this open auger drive that has the option to spread a wide range of material that is typically not available to tailgate mounting designs.