SaltDogg by Buyers 6 – 16 cu.yd. Hydraulic Chain Conveyor Municipal Spreaders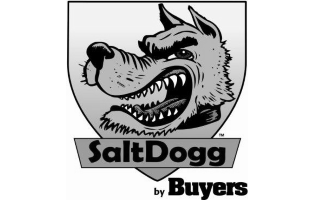 On this page you will find the product line of Buyers SaltDogg 6 – 16 cu.yd. Hydraulic Chain Conveyor Municipal Spreaders offered here at Angelo's. Please do not hesitate to call today with any questions about the great features offered here. As always if you have any questions at all regarding the utility of these spreaders, the compatibility with your vehicle, shipping information, parts and accessories, or more please do not hesitate to get in touch with the pros at Angelo's today at 1-877-ANGELO-2
Reliability is always a goal when considering the equipment that we carry here at Angelos. Stainless steel design and engendering intent for optimization has produced a very high quality product for our consumers in this case and in all products that we elect to carry. This includes and is not limited to marine grade electrical connection seals, explosion proof spinner motor design, powder coating for great durability, and more!
SaltDogg 6 – 16 cu.yd. Hydraulic Chain Conveyor Municipal Spreader Replacement Parts
If you currently own a SaltDogg 6 – 16 cu.yd. Hydraulic Chain Conveyor Municipal Spreader and need to complete some repairs, you can find all the appropriate replacement parts to keep your rig running at optimal condition. All parts are manufactured by SaltDogg right here in the United States. There really is much more to learn about spreaders, and of course the multitude of other ice removal equipment systems that we carry here at Angelo's. Angelo's does also carry a wide array of parts for these spreaders and for other equipment. Additionaly Angelo's still does carry parts for old or discontinued models so be sure to call today if you have any questions about replacement parts at 1-800-264-3562
Our parts inventory is conveniently organized by product groups including Blade Guides, Cutting Edges, Lift Cylinders, Drag Chains, Driveway Stakes, Hydraulic Hoses, Hydraulic Oil, Lights, Spreader and Plow Motors, Pro Wings, PlowDollies, Snow Plow Deflectors, Plow Paint,Snow Shovels, Spreader Bearings, Spreader Spinner Disks, Trip Springs, and Truck Accessories.
Typical application: Minimum GVW Chassis 26,000 lbs. – 66,000 lbs.
HIGHLIGHTS
Spread Material: bulk salt, bulk sand, salt & sand mix
Feed Mechanism: 24" wide conveyor with 3/8" bars
Power Source: hydraulic
OPTIONS
Capacity

9' : 6 cu. yds.
10' : 7, 8, 9 cu. yds.
12' : 10, 11, 13 cu. yds.
14' : 12, 13, 14 cu. yds.

Optional 8891167 Lightbar
Optional LS4 Liquid Spray System
Additional sizes/configurations available. Call for quote.
FEATURES
304 stainless steel hopper
Material spread up to 40'
Adjustable feedgate
Two independent direct drive hydraulic motors
Choice of three gear box ratios: 50:1, 25:1 or 6:1
Hinged top screens, 3/8" bars on 2-1/2" openings
Inverted V, adjustable
2" drive shaft and bearings with 8-tooth sprockets
1-1/2" spring loaded idler shaft and bearings with 8-tooth sprockets
Quick release hinged chute (no tools needed)
20" Poly spinner disc (stainless steel available)
40 products in this category, displaying products 1 to 40.

-->