Saltdogg Salt Spreader Swing Gate Mount and Parts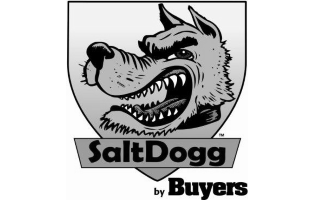 On this page you will find access to all of the Saltdogg Salt and Sand Spreader Swing Gate mounts and parts that are manufactured by Buyers. Angelos Supplies / SiteOne is the #1 Supplier of Saltsdogg and Snowdogg products. If you have any questions about what Salt Spreader Mount is right for your configuration please do not hesitate to get in touch with us today by calling 1-877-264-3562
The Swing Away Gate
This is one of the most popular spreader mounts in the business due to it's utility and versatility. The system allows entire spreader to swing out of the way to the right, for full access to your pickup truck bed. As you can imagine this is incredibly useful for getting access to gear and supplies quickly and on demand. The installation easily mounts in place of the tailgate. Telescoping cross members fit most DOMESTIC full size pickups with a step bumper and this package includes all mounting hardware. As always if you have any questions about whether this mount will be compatible with your truck or SUV please don't hesitate to call the Pro's at Angelos / SiteOne today!
If you currently own and operate the spreader mount listed on this page and simply need replacement parts for your rig then you are also in the right place. Click through to the specific mount you have for a listing of parts including all hardware, pins, brackets, T Bars, and more. Also don't forget that these spreader mounts are often an affordable option to use as an OEM for any spreader models out there. If you have any questions at all in this regard please don't hesitate to get in touch with us today by calling 1-877-264-3562
If you currently require any Spreader Parts, just click through for a listing of all the product groups we carry inluding Blaid Guides, Cutting Edges, Lift Cylinders, Drag Chains, Driveway Stakes, Hydraulic Hoses, Hydraulic Oil, Lights, Spreader and Plow Motors, Pro Wings, PlowDollies, Snow Plow Deflectors, Plow Paint, Snow Shovels, Spreader Bearings, Spreader Spinner Disks, Trip Springs, and Truck Accessories. Additionaly Angelos / SiteOne still carries parts for old or discontinued plow models so be sure to call today if you have any questions about replacement parts at 1-800-264-3562
Also don't forget that our inventory is not limited to plows manufactured by Blizzard! Angelos / SiteOne can supply snow and ice removal equipment and parts from all the top brands in the industry. Check out what we offer from other manufactuers here including Western, SaltDogg, Meyer, Snow-Ex, Fisher, SnowDogg, and BOSS
| | |
| --- | --- |
| Location | Item Lookupcode |
| NS | 3009869 |
| NS | 3010292 |
| NS | 3007795 |
| NS | 3007755 |
| 06 | 66050 |
| 01 | 3012513 |
| 02 | 3012514 |
| 03 | 1411500 |
| 04 | 3012511 |
| 05 | 1302045 |
| 07 | 3007516 |
| 08 | 3007793 |
| 09 | 3007513 |
| 10 | 3007512 |
14 products in this category, displaying products 1 to 14.