Rosetta Retaining Wall Products
The night isn't going anywhere-why should you? Like a summer evening, Rosetta patios and retaining walls were made for lingering. If you are not sure what you are looking for, Rosetta has taken the pain staking process away with their 6 beautiful and affordable pre-planned patio.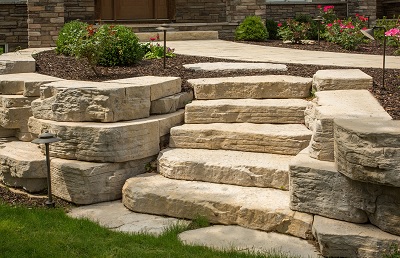 Rock Gardens with Rosetta Retaining Walls
Rocks can create interesting focal points in a garden. For instance, the Rosetta stone landscape rock can be instrumental when it comes to cladding the fountains and waterfalls. While designing the walkway, you can create an interesting garden by introducing some curves instead of straight and geometric lines. While introducing diversity in the garden is vital, avoid creating chaos by varying your finishes at a whim.
Changing Topography with Rosetta Landscape Products
The topography can make a huge impact on the appearance and drainage of a garden. While the Rosetta stone landscape walls can separate the low and high areas of your garden, slopes might look attractive too. While choosing the materials for your walkway, think of the color scheme as well. The common materials for walkway construction include brick, crushed stone, and natural flagstone. However, the Rosetta stone landscape walls can flank the steps on your walkways.
Rosetta Stone Landscape Materials
Hard surfaces can benefit from the Rosetta stone landscape materials of different shapes and sizes. Natural stone allows homeowners to mimic nature in the hard surfaces. If you want to link several spaces in a sloped garden, you might have to use some retaining walls and steps. Instead of creating the steps on the site, you should buy the prefabricated stones from Rosetta. These steps, boulders, and walls can help you to complete a huge landscaping project in a few days. The Rosetta stone landscape steps add beauty and elegance to your garden since they combine well with the shrubs and edging on either side of the walkway.
Use Rosetta as Tree Surrounds
Including expansive hard areas in a garden can compromise the beauty and lead to the elimination of the natural vegetation. However, you can retain the trees by building the walkways around them. Tree surrounds are metal gratings that allow water to get to the roots in the hard landscaping zones. Some tree surrounds allow you to introduce some vegetation as well. For example, elephant grass combines well with the Rosetta stone landscape block.
Use Rosetta Retaining Wall Products to Create Focal Points
Introducing some focal points in your garden can be a great way to create hierarchy and order. Focal points should be visible from the key areas of your garden. If you introduce a fountain in your garden, you should see it from your lounge or dining room. You should also have an elaborate path to the fountain. Create a large patio around the fountain and introduce some benches. Formal paving materials will contrast well with your boulders and rocks. Remember to light up the walkways to allow people to use the garden at night. The Rosetta stone landscape rock is also common in the parks, meditation gardens, shopping malls, and parks. Boulders and stones can make a garden appear natural with minimum effort.

10 products in this category, displaying products 1 to 10.

-->