Quickrete Cement Products

Angelo's Supplies / SiteOne, Inc. has a large variety of Quikretes home improvement and repair products that are designed for the do-it-yourself-er and it is perfect for contractors and industry professionals too. Quikrete Concrete Mix can be used for building or repairing foundation walls, sidewalks, curbs, steps and ramps and for setting posts. Concrete Mix consists of a uniformly blended, properly proportioned mixture of gravel, sand and Portland cement. Quikrete products are available for pick up from either of our locations.

QUIKRETE Blacktop Patch is an asphalt cold patch for repairing potholes and large cracks in asphalt pavement. Does not require heating or mixing, pour directly out of bag.

QUIKRETE Concrete Mix is the original 4000 psi average compressive strength blend of portland cement, sand, and gravel or stone. Just add water. Use for any general concrete work.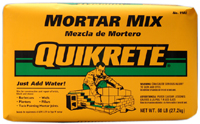 QUIKRETE Mortar Mix is a blend of masonry cement and graded sand, designed to meet ASTM C 270 for Type N Mortar. Just add water.