Anti-ice / Deicing Equipment & Systems at Angelo's Supplies / SiteOne
On this page you will find access to the entire line of Equipment & Supplies for liquid deicing, anti-ice treatments and dust control spraying as well as the parts you need to keep your gear in tip top shape. As always if you have questions about parts for a plow, spreader, hydraulic units, or other accessories that you need be sure to call Angelo's / SiteOne today at 1-800 264 3562.
If you currently own any snow and ice removal equipment offered and require Plow or Spreader Parts, just click through for a listing of all the product groups we carry including Blade Guides, Cutting Edges, Lift Cylinders, Drag Chains, Driveway Stakes, Hydraulic Hoses, Hydraulic Oil, Lights, Spreader and Plow Motors, Pro Wings, Plow Dollies, Snow Plow Deflectors, Plow Paint,Snow Shovels, Spreader Bearings, Spreader Spinner Disks, Trip Springs, and Truck Accessories.
Additionaly Angelos Supplies / SiteOne still offers parts for old or discontinued models so be sure to call today if you have any questions about replacement parts at 1-800-264-3562
Angelo's / SiteOne can supply snow and ice removal equipment and parts from all the top brands in the industry. Check out what we offer from other manufactuers here including SnowDogg, SaltDogg, Western, Snow-Ex, Fisher, Blizzard, and BOSS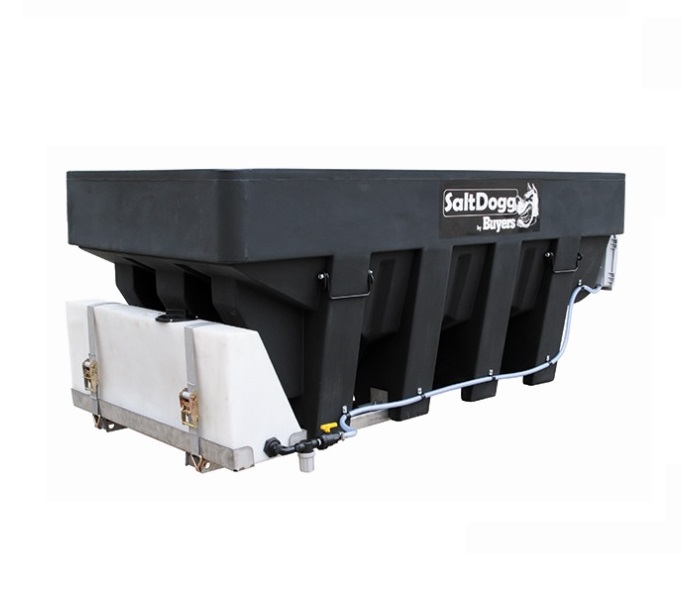 FEATURES:
12 VDC, 3 GPM/45 PSI electric diaphragm pump

Hydraulic Drive: 4.5 GPM @ 1,750 RPM (150 PSI) with Proportioning Valve, Bronze pump, bronze gears, stainless steel shaft.

30-gallon polymer reservoir (48"L x 13"W x 14"T)

55-gallon polymer reservoir (34"L x 23"W x 26"T)

105-gallon polymer reservoir (69"L x 20"W x 25"T)

200-gallon polymer reservoir (151"L x 28"W x 33"T)

Low Pressure-empty tank light/buzzer indicator

In-cab variable speed pump control (electric models)

Adjustable Hydraulic proportioning valve (hydraulic models)

Systems include tank, pump, cab controller, hoses, fittings, ball valve, filter, wiring, connectors, stainless steel brackets and tie downs

Enclosed pump system for corrosion resistance

304 stainless steel mounts

BENEFITS :

Provides more efficient salt distribution with fewer applications required

Speeds the melting process & works at lower temperatures than salt

Residual material on the pavement last longer

Easy to use and maintain

-->