Lake Shore Ledge Rock
The elegance of Natural Stone Lake Shore Ledge Rock in your garden, on your patio or the front entrance of your home adds an organic beauty and natural flow. Find the perfect natural stone ledge rock here at Angelo's Supplies/SiteOne where we have a wide variety of shapes and sizes for your residential or commercial application.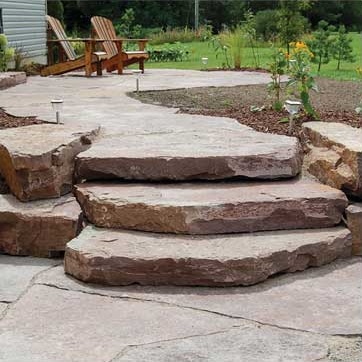 Lake Shore Ledgerock is a dark chocolate color with red hues, Lake Shore is one of the most beautiful and unique landscaping stone products available anywhere. Its natural earth tones and attractive hues blend seamlessly into the surrounding environment making it ideal for edging pathways,or building natural retaning stone walls, garden borders or accients, water features and for any size of retaining wall.
This is a Natural Stone, color will vary from each layer of the quarry, we suggest that you come in to pick out the pieces that you will need.
Need help to find the materials you need to begin – and finish – your job? Do not hesitate to call Angelo's. We are here to make your purchase as easy and seamless as possible. You can also reach us by the live chat function on this page or by sending a message from our Contact Page. Whatever form of communication is easiest for you, we are available! Call the Pro's at Angelo's at 1-877-ANGELO-2
1 products in this category, displaying products 1 to 1.