Lawn and Garden Landscape Edging
Here you will find all of the Lawn and Garden Landscape Edging we have in stock at Angelo's Supplies/SiteOne. We are here to help guide you and provide you with all your landscaping needs, for commercial contractors and home owners. Angelo's Supplies/SiteOne can supply everything you need to get the job done.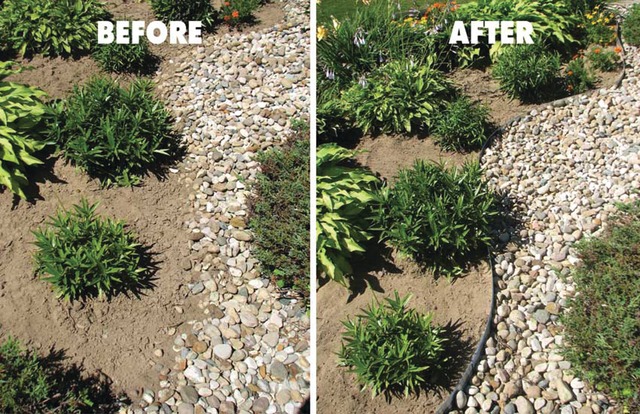 20' Black Poly Edging, 8' and 16' Aluminum Edging, and Steel Edging in 10' Lengths.
Lawn edging is a critical process for property owners who are interested in maintaining outdoor spaces that are meticulous and attractive. It's not enough to just mow your lawn. It's not enough to just weed or rake it either. Edging is a vital process for people who want their lawns to appear neat and tidy. Neglecting edges can be a big mistake for property owners. Don't ignore the narrow grass coverings on the sides of your walkway and driveway. If you do your lawn will never look as pleasant as it does in your imagination. It you want to take on your lawn edging raised bed needs like a wizard, you first need the right equipment. Angelo's Supplies sells all types of high-quality landscaping and building supplies. We you with the finest and most dependable landscape edging products. If you're looking for products that can cater to your lawn edging border, lawn edging steel or lawn edging strip duties, Angelo's Supplies / SiteOne is your answer.
Effective Lawn Edging Near Me - Great Choices in Products
If you're searching for quality metal lawn edging, Angelo's Supplies / SiteOne can give you the guidance and advice you need. We provide customers with superb choices in steel, poly and aluminum edging. We have 10' edging that's suitable for all kinds of landscaping requirements. If you want access to the finest options in 8', 16' and 20' metal lawn edging and beyond, our shop can accommodate you fully.
There are so many advantages to our edging products:
Aluminum edging isn't vulnerable to warping, cracking, decaying and rusting
Steel edging can is long lasting and reliable
Poly edging is made of a dependable polyethylene mix. If you're looking for edging that's not susceptible to the effects of unpredictable weather conditions, poly may be a good material choice for you
Angelo's Supplies / SiteOne Can Accommodate All Your Lawn Edging Needs
Our knowledgeable team members can all of your questions and help you make a terrific lawn edging raised bed decision. If you're searching for landscape lawn edging supplies that are superb value for your money, we have you covered!
Lawn Edging Near Me - Angelo's Supplies / SiteOne Serves Customers All Throughout Southeastern Michigan
Angelo's Supplies / SiteOne has locations in Wixom and Farmington Hills, Michigan. If you're searching for a lawn edging border in Wixom, Farmington Hills, Walled Lake, Northville, Novi, West Bloomfield, Beverly Hills and Royal Oak, we're at your service!
Reach Out to Angelo's Supplies / SiteOne Today
Get in contact with Angelo's Supplies / SiteOne as soon as possible to request more details about our lawn edging products. We also sell a wide range of other landscaping supplies. We can help you now with fire pits, brick pavers, gravel, mulch and patio stones.

-->