Fisher Poly-Caster Salt/Sand Spreader at Angelo's / SiteOne


On this page you will find access to the entire line of Fisher PolyCaster Salt Spreader and Salt Spreader parts that we supply here at Angelo's / SiteOne. As always if you have questions about parts for a plow, spreader, hydraulic units, or other accessories that you need be sure to call Angelo's / SiteOne today at 1-800 264 3562
If you currently own any of the Fisher snow and ice removal equipment offered and require Plow or Spreader Parts, just click through for a listing of all the product groups we carry including Blade Guides, Cutting Edges, Lift Cylinders, Drag Chains, Driveway Stakes, Hydraulic Hoses, Hydraulic Oil, Lights, Spreader and Plow Motors, Pro Wings, Plow Dollies, Snow Plow Deflectors, Plow Paint, Snow Shovels, Spreader Bearings, Spreader Spinner Disks, Trip Springs, and Truck Accessories.
Additionaly Angelos Supplies / SiteOne still offers parts for old or discontinued models so be sure to call today if you have any questions about replacement parts at 1-800-264-3562.
Also don't forget that our inventory is not limited to plows manufactured by Fisher! Angelo's / SiteOne can supply snow and ice removal equipment and parts from all the top brands in the industry. Check out what we offer from other manufactuers here including SnowDogg, SaltDogg, Western, Snow-Ex, Fisher, Blizzard, and BOSS, and MORE
De-Icing Technology. Evolved.
The ability to precisely match material delivery and spread pattern to surface conditions is a fine art. The dual-motor FISHER® POLY-CASTER™ Hopper Spreader gives you independent control of the conveyor and the spinner so you can do just that. Combine this quiet electric-drive system with the rustproof double-wall poly hopper and you have the ultimate in de-icing performance.
The Fisher Poly Caster line features a V-Box poly hopper with adjustable chute assembly. With dual electric motors (spinner and conveyor) you will find it a quiet and durable spreader perfect for your de-icing needs. Available in three sizes (1.5 cu. yd., 1.8 cu. yd., 2.5 cu. yd.), we have your Poly Caster ready to go!
Fisher Poly Caster Salt Spreader and Replacement Parts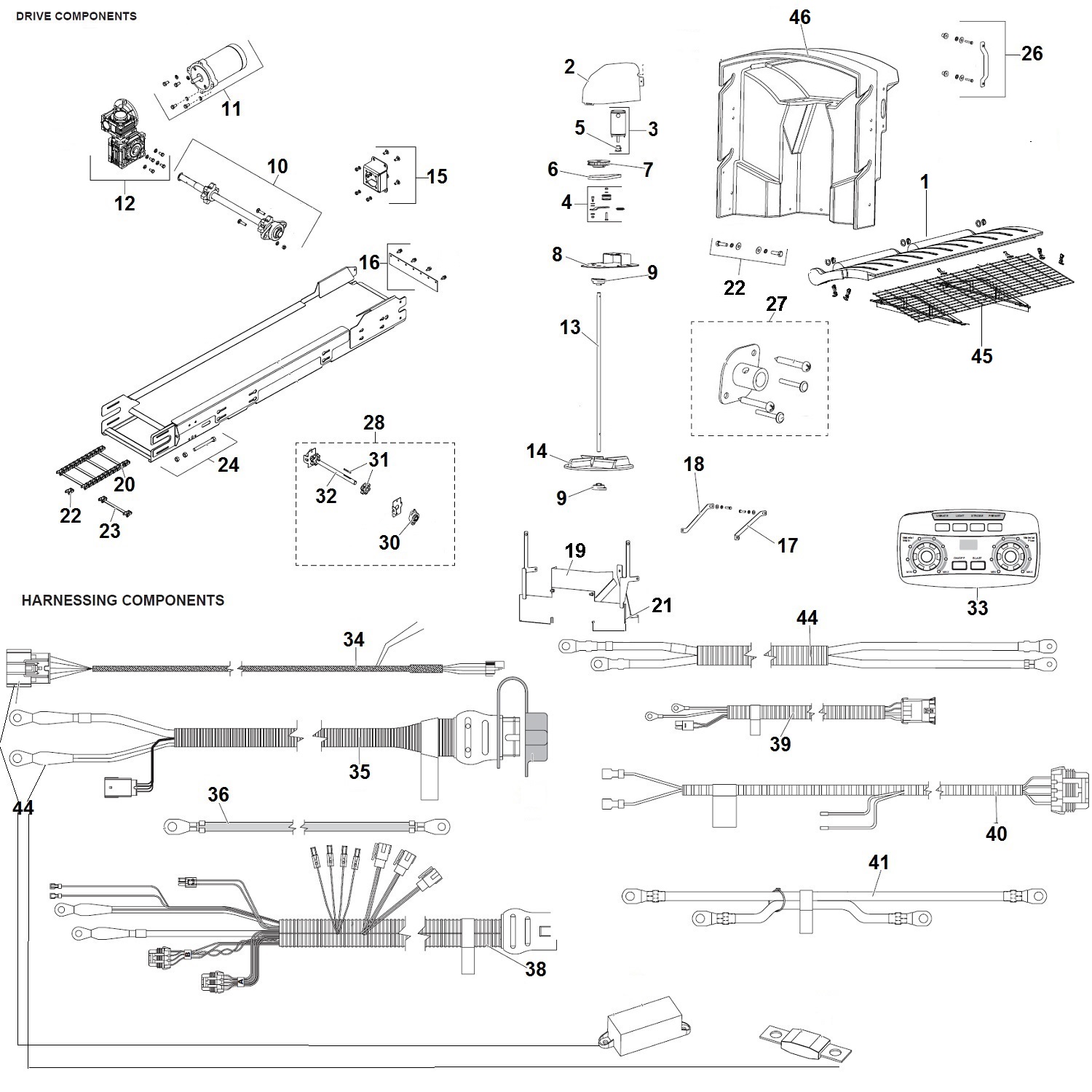 | | |
| --- | --- |
| loc | ilc |
| 01 | W78018 |
| 01 | W78019 |
| 01 | W78020 |
| 01 | W78021 |
| 45 | W78115 |
| 45 | W78116 |
| 02 | W78287 |
| 03 | W78300 |
| 04 | W78298 |
| 05 | W93101 |
| 06 | W78285 |
| 07 | W78066 |
| 08 | W78297 |
| 09 | W96167 |
| 13 | W78283 |
| 14 | W94424 |
| 17 | W78301 |
| 18 | W78302 |
| 19 | W78294 |
| 21 | W78130 |
| 25 | W99780 |
| 26 | W78247 |
| 27 | W78262 |
| 24 | W99073 |
| 28 | W99480 |
| 16 | W78266 |
| 15 | W99749 |
| 20 | W78076 |
| 20 | W94898 |
| 23 | W68492 |
| 22 | W68475 |
| 10 | W99094 |
| 11 | W99085 |
| 12 | W99087 |
| 31 | W99479 |
| 32 | W94351 |
| 30 | W94536 |
| 12 | W99067 |
| NS | 3008046 |
| NS | W78197 |
| 34 | W69902 |
| 35 | W76057 |
| 36 | W22511 |
| 38 | W78417 |
| 44 | W78418 |
| 39 | W78415 |
| 40 | W78412 |
| 41 | W78394 |
| 42 | W78402 |
| 46 | W78022 |
50 products in this category, displaying products 1 to 50.

-->