Fire Pits, Fire Pit Rings
Here you will find Fire Pits and Fire Pit Rings for your outdoor project. Suitable for commercial or residential projects, Angelo's Supplies/SiteOne can supply everything you need to get the job done. If you have questions or would like to place an order for delivery, give Angelo's a call!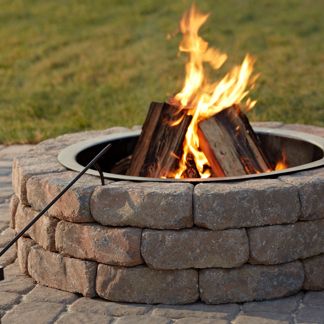 Traditional Round Fire Pit Rings to the Modern Square Wood Burning Fit Pits
Fire pits can upgrade the beauty that exists in anybody's home even when they are not in use. Fire pits are very affordable and create an atmosphere of warmth and comfort which is great for cold winter months. A great fire pit is an excellent stimulus for good conversations, an excuse to relax, and great for summer get-togethers. Angelo's Supplies has a variety of fire pits to choose from to fit your needs and your home.
What Are the Different Types of Fire Pits?
Before purchasing a fire pit, you may want to consider what type of fuel your fire pit will burn. Wood or gas seem to be the most common choices when purchasing a fire pit. Wood burning fire pits can create the feel of having a campfire right in your backyard, while also keeping it the fire contained. Propane or natural gas fire pits offer homeowners more convenience. Propane fire pits allow for a beautiful, warm flame without the need to refill often like wood does. You may want to consider a natural gas fire pit if your backyard has the capacity to install a natural gas line. This will be a permanent fixture but one of the best things about it is that it will never run out of fuel, and add the warm flare of Exotic Fire Glass to your fire pit.
Where Can I Place Fire Pits?
When placing a fire pit, you want to make sure it's placed somewhere safe and away from anything flammable. It is best to place a fire pit atop a natural surface such as gravel, brick, stone, or a fire-resistant composite. A wood deck can be dangerous if embers fly. As a precaution, you may want to check in with your community or local officials for the requirements of having a fire pit in your backyard. Many communities may require you to place your fire pit at least 10 ft away from your house and neighbors.
What Is Fire Pit Glass?
Fire pit glass is made up of small bits of tempered glass or recycles glass and is used in fireplaces and fire pits. Fire glass is aesthetically appealing with different color and shape variations available. It's a popular alternative to gas logs that kill the natural aura of a dancing flame. The glass is designed to tolerate high temperatures so it won't burn, melt, or discolor. Another advantage of fire pit glass is that it doesn't produce toxic fumes, soot, smoke, or ash. The glass with instantly transform your fire pit or fireplace with dancing flames above the remarkable fire glass.
How Does Fire Pit Glass Work?
The fire glass is put through a special treatment so the glass does not melt when in direct contact with hot flames. To use fire glass, there must be a fuel source such as natural gas or propane. The fire glass is not flammable but is intended to be used as a decoration on top of a fire pit to create a glowing focal point with a clean look. It is ideal to use a fire pit with several different points where the fuel will come out and burn multiple areas of the fire pit. Having multiple burners will create an even and natural glow that is scattered across the entire pit. To light the fire glass, simply turn the gas on and hold an extended lighter close to a burner. With the gas on, the fire will light and will stay on until the gas is turned off.

Fire pits have a lot of advantages for your home. They bring in the heat when its cold, an eye-catching amenity, and are a great place to gather around with friends or family. No need to spend top dollar because Angelo's Supplies has a variety of affordable fire pits and rings to suit your home and are here to answer any questions you may have!

If you find yourself in need of help with choosing the right fire pit solution for your landscape project, contact the experts at Angelo's Supplies/SiteOne. We are knowledgeable and eager to help you complete your outdoor landscaping project.

-->