Drag/Conveyor Chains for V-Box Spreaders
For all the leading manufactures Buyers, Fisher, Hiway, Western, Flink, Hinker, Henderson, Swenson, Airflo, Down Easter, Tarco, Goodroads, Meyer, Snoway & Smith. All chains are dipped in black oxide paint. There are (2) master links included with every drag chain.
The best way to measure a Drag Chain to ensure the size you may need. Measure as depicted below (a) Center of Sprocket to Center of Sprocket, (b) measure your Bar Flight (example) 1/4" x 1" (c) Chain #, this might be stamped on the inside of the chain. (d) Bar Flights are they every link, every other link or every 3rd link.
What Are The Benefits of Drag Chains?
When you're using a v-box spreader to spread salt or sand, the right drag chains can make the difference between a subpar job and an even spread. And if you have ever had to drive on icy roads, you know that achieving an even spread of salt is crucial for road safety in winter conditions.However, chains aren't the only option - some people opt for an auger feed system. And while the auger systems are preferred in some regions, chains have some distinct advantages that are worth considering.
What's the Difference Between Chains and an Auger Feed?
While drag chains for trucks ensure an even spread of salt or sand, not everyone fully understands the difference between chains and auger feeds.
Two of the most commonly-available spreader feed types are auger feed systems and pintle chains. Auger systems do not involve chains - they simply have a steel auger that moves sand or salt to the chute.
Augers have the advantage of being able to easily break up clumps of salt or sand very easily. However, drag chains have the advantage of being able to move more material faster. This is because the combination of their speed and a wider surface area allows them to carry the material out of the hopper or reservoir. In fact, these chains are sometimes called "conveyor chains" for that reason.
Drag chains for trucks require some maintenance, but much of that maintenance involves lubing the chains and other fairly simple tasks. If you're working with material that contains rocks, the best drag chains are far less likely to jam than auger feeds are.
How Do You Choose the Right Size Chains?
If you're convinced that chains are right for your salt-spreading or sand-spreading needs, you may be unsure of how to choose the best drag chains for your needs. One of the most important things to consider is the surface area you need. For instance, if you are planning on spreading large volumes of salt or sand, a wide chain like those made by Air-Flo may be most appropriate.
Choosing surface area is one thing, but it is also important to measure your spreader to ensure you purchase the right size chain. To measure accurately, you'll need to measure from the center of one sprocket to the center of the other sprocket. You also will need to measure your bar flight (see the example on this page) and be sure you can find the chain number for reference and to ensure a correct fit. If you need to replace a few links on a chain, you don't have to worry about buying a whole new chain. Angelo's offers individual replacement links for chain repair or extension.
Especially if you've never done it before, finding the right chains can be a challenge. When you buy from Angelo's, you have the benefit of being able to consult with knowledgeable professionals. If you have any questions about choosing chains, you can come into the store to speak with someone face to face, use the online web chat feature, or give us a call!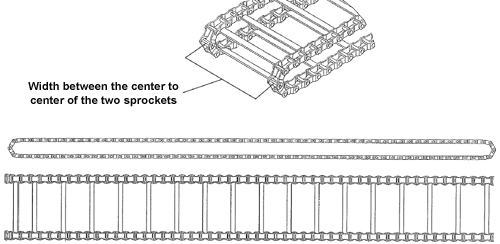 -->