Decorative Landscape Stones
Here you will find Decorative Landscape Stones that we carry here at Angelo's Supplies/SiteOne. From business complexes to backyard getaways, Angelo's Supplies/SiteOne can supply everything you need to get the job done. When you're busy planning and otherwise executing your project, it can help to have Decorative Stone delivered right to you. If you have questions or would like to place an order for delivery, give Angelo's a call!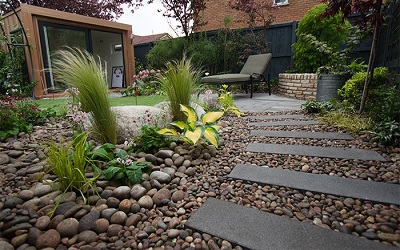 Need to add that touch of elegance and beauty to your landscape?
Angelo's Supplies / SiteOne, Inc. carries many different colors and styles of Decorative Rock. We have a wide variety of decorative Aggregates to beautify your Home, Egg Rock, Mexican Pebbles, Rainbow Flats, Crushed Granite, Western Sunrise, Spanish Tile, Stone Bark, Red Lava, Black Lava, Black Granite, Slatescape, Marble, Indian Sunset, Walnut Nuggets, Walnut pebbles, Silica Pebbles, Spanish Sunrise, Barn Red, Royal Gorge, All available for Delivery by the ton. Landscape Stones are also available for pick up in bulk or 1/2 cubic foot bags from either of our locations.
What Are the Benefits of Landscape Stones?
When designing a landscape, plants may be part of the plan, but so should landscape stone. Stone is a tough material which makes it long lasting and weather resistant. It does not require much maintenance on your part as it is less likely to allow for weeds to grow and will not need to be replaced because landscape stone does not decompose. Landscape stones can provide color and texture to a rather flat area and can provide more uses than just aesthetics.
What Are Landscape Stones?
Landscape stones are an excellent option for decorating a landscape design. At Angelo's Supplies, you will find a wide variety of forms and colors to fit your decorative interest. Landscape stones have more uses than just decor. They can serve a multitude of functions as stones are one of the most versatile elements that are available for landscaping.
Are There Different Types of Landscape Stones?
If you like gravel and small rocks, aggregates stones are your best choice. They are great for drainage issues or if you want to add texture to a flat garden. These types of stones can vary in size from pebbles to large river rocks. Each type of stone has its differences. Size, weight, shape, color are all factors to consider when choosing a landscape stone to fit your landscape designs. Angelo's Supplies has a wide range ofaggregate stonesto decorate your landscaping project with.
Where Can I Use LandscapeStones?
There are many places where landscape stones may be used to accentuate your landscape. Some of the most common uses are in the garden, a border for your driveway, or to create a walkway. Stones help the property look complete and polished by adding curbing appeal. Not only are they aesthetically appealing but they can offer safety benefits and can help with drainage. Stone provides more traction in the winter months because it is less slippery than concrete or wood. The placement of the stones can drain water from your yard while keeping their visual appeal.
How Are Landscape Stones Placed?
After your landscaping design is in place, and the desired stones are selected, it is time to install the stones as the final piece to the project. Before laying the landscape stones, it is essential to properly prepare the ground so that you get the outcome you desire. It might require removing grass or other plant material from the area and it is generally best to dig a slight recess into the ground in which the stones will be placed to prevent movement of the stones in the future. After the ground is prepared, then you can place the stones and arrange them to fit the desired look. After the stones are placed, it is necessary to fill up the cracks to set them in place with either dirt or if a more finished look is desired, you can opt to use grout material.

If you find yourself in need of help with choosing the right decorative stone for your landscape project, contact the experts at Angelo's Supplies/SiteOne. We are knowledgeable and eager to help you begin – and finish – your outdoor landscaping project. You can also reach us by the live chat function on this page or by sending a message from our Contact Page. Whatever form of communication is easiest for you, we are available to make your purchase as easy and seamless as possible! Call the Pro's at Angelo's at 1-800-ANGELO-2

-->