Brick Pavers - Unilock Interlocking Paving Stone
Here you will find the full line of Unilock Interlocking Brick Paving Stones that we carry here at Angelo's Supplies/SiteOne. From business complexes to backyard getaways, Angelo's Supplies/SiteOne can supply everything you need to get the job done.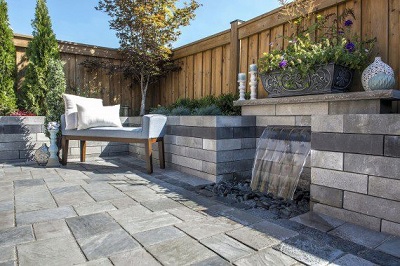 \
Unilock Brick Pavers and Retaining Wall Stone
For the past 40 years Unilock has been committed to investing in the future of landscape design. Today, Unilock continues to lead the industry in style and technology. Unilock has made this commitment because at Unilock, they feel your outdoor living space should be designed to connect with your home. So, it's no surprise more families are choosing to work with architects, designers and craftsman who recommend products from our line of unsurpassed Unilock Select pavers.
If you're planning to landscape your home, Unilock is confident you'll be inspired by all that they have to offer. Be sure to check out a couple of their latest innovations, Lineo Retaining Wall and Artline Brick Pavers.
Unilock works hard to bring you the best selection of quality products and support because they believe that the outside of your home should be as beautiful, functional and welcoming as the inside of your home.
Why Are Unilock Brick Pavers a Good Choice for Your Outdoor Project?
For many people, having a brick or stone patio, driveway, or other hardscape is a great way to extend their living space outside. While traditional brick remains a popular choice, some homeowners opt for an outdoor living space that resembles the inside of their home. Unilock brick pavers offer a variety of colors and stone types to suit virtually every aesthetic, from traditional to modern.
Why Are Unilock Brick Pavers a Good Choice for Your Outdoor Project?
You Don't Need to Spend Money to Maintain Them
In recent years, Unilock pavers and similar technologies have seen immense gains in popularity. Part of the reason they have become a popular choice among homeowners is the fact that they have little to no maintenance cost. You may find that the initial Unilock pavers cost is more than the cost of an asphalt driveway. However, an asphalt driveway will need to periodically be resealed. Concrete and asphalt driveways also may crack, which necessitates sometimes-expensive repairs. While the up-front Unilock pavers cost may be slightly higher, you won't have to spend further once the initial purchase has been made.
They Are Incredibly Strong
Some types of Unilock pavers are made with Ultima Concrete Technology, which makes them up to four times as strong as concrete. Therefore, if you're searching for "Unilock pavers near me," you should know that this paving choice can withstand heavy use, making it ideal for driveways and patios. Many of these pavers come with a lifetime guarantee, so you can feel confident that you'll be able to enjoy your outdoor hardscape for years to come.
What Types of Designs Are Available?
Anyone seeking out Unilock patio ideas only needs to take a look at some of the designs offered by the company. Any Unilock pavers price list will illustrate available designs and colors. Most Unilock pavers dealers carry an array of paver types, so you will be able to see the pavers in person before selecting them for your project.
One of the most popular designs is the Unilock Town Hall pavers series. This series is made by casting traditional street pavers, making it ideal for homeowners who want an authentic vintage feel. It also comes in a range of traditional Unilock pavers colors, including basalt, burgundy red, burnt clay, old oak, and a mix of three different colors. Similar to the Unilock Town Hall pavers is the Olde Greenwich Cobble series. This series is inspired by cobblestone streets and offers rounded corners and a slightly rough appearance for a historic look.
If you're searching for "Unilock pavers near me" and are hoping to find a design that's more modern and geometric, the Il Campo series may inspire some Unilock patio ideas. This design offers subtle etching and a range of stone shapes and sizes. This lets you create your own pattern for a striking and memorable patio, driveway, or other outdoor space. The minimalist Artline series offers clean lines and smooth surfaces perfect for a more minimalist space. It comes in two traditional Unilock pavers colors, but adventurous designers can combine them for a truly unique effect.
Choosing the Right Pavers for Your Project
For the uninitiated, browsing a Unilock pavers price list may be overwhelming. If you have a general project idea in mind but want some guidance as to which type is best suited to your project, the knowledgeable Unilock pavers dealers at Angelo's SiteOne can help you choose the best paver type for your project. With the right Unilock pavers, you can create a beautiful, welcoming, and long-lasting outdoor space for yourself, your family, and your friends.

Need help to find the materials you need to begin – and finish – your job? Do not hesitate to call Angelo's. We are here to make your purchase as easy and seamless as possible. You can also reach us by the live chat function on this page or by sending a message from our Contact Page. Whatever form of communication is easiest for you, we are available! Call the Pro's at Angelo's at 1-800-ANGELO-2

16 products in this category (17 variations), displaying products 1 to 16.

-->