Brick Pavers-Techo Bloc Interlocking Paving Stones
Here you will find the full line of Techo Bloc Interlocking Brick Paving Stones that we carry here at Angelo's Supplies/SiteOne. From business complexes to backyard getaways, Angelo's Supplies/SiteOne can supply everything you need to get the job done.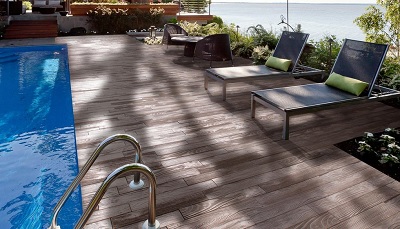 Techo Bloc Brick Pavers and Retaining Wall Stone
Design aficionados at heart, Techo-Bloc is known for elevating exterior design by creating landscape stones that push the boundaries of functionality, durability and aesthetics. Techo Bloc products span lifetimes and are engineered to endure the harshest weather. The most diverse collection of landscape stone styles, textures and colors transform any backyard or front yard, into a spectacular setting.
How Can Techo Block Pavers Enhance Your Outdoor Space?
Whether you want to create a memorable poolside, design an inviting patio space for family gatherings, or otherwise decorate the outdoor space you have, choosing brick pavers can be an excellent way to create the look you want. In particular, Techo Bloc pavers can help you create the ideal look for your space. Techo block is ideal for those looking for a long-lasting solution, because while these pavers are made of concrete, they are made in finishes that look like wood, stone, brick, and other common paving materials.
What Types of Techo Bloc Finishes are Available?
If you are interested in improving your outdoor space, your local Techo Bloc dealers are likely to have a variety of finishes available. While seeing each finish in person is one of the best ways to ensure that you have chosen the right finish for your project, having some familiarity with each finish type, either from consulting a Techo Bloc price list or researching finishes online, can help you get an idea of the available options before you pick one. Below are some of the available types of Techo Bloc pavers, along with some project ideas to go with each one.
What About Pricing?
If you are concerned with Techo Bloc pricing, it can help to speak with your local Techo Bloc dealers. A dealer may also be able to give you a Techo Bloc price list, which can help you find the right set of pavers to fit your existing budget. When considering Techo Bloc pricing, it is important to remember that, since these stones are long-lasting, the initial cost is an investment. In short, these pavers are an easy-upkeep yet high-quality way to improve the look of your home or business's outdoor space.
Aberdeen Series
This classic series creates the look of slightly weathered stone. Each paver's face is detailed to look like the face of a stone, and the availability of different-sized pavers means you can create a modern, geometric look. The Aberdeen series comes in Baja Beige, Rock Garden Brown, and Azzurro colors. Because of its traditional stone look, it works especially well as part of a patio setup.
Antika Series
This series recreates the look of old-world cobblestone, but the fact that it comes in paver form makes it significantly easier to install and maintain. This series is well suited to private driveways, and it can even be used to create unique swimming pool decks. It comes in several colors, including Shale Grey, Sandlewood, Chestnut Brown, Chocolate Brown, and Onyx Black.
Blue 60 Series
This series is made of the optimal thickness for use in driveways, and it comes in a variety of finishes from smooth to lightly textured. While not all colors come in all finishes, the Blue 60 series of Techo Bloc stones offers a wide variety of options. Techo Bloc offers this series in Autumn Red, Beige Cream, Champlain Grey, Chestnut Brown, Harvest Gold, Grey Nickel, Mojave Beige, Onyx Black, Sandlewood, and Shale Grey.
Borealis Series
The popular Techo Bloc Borealis series is designed to mimic the natural look of wood. This series is made to look like classic railroad ties, but because all Techo Block stones are made of concrete, there is little to no upkeep involved. Because of the wood-like finish, Techo Bloc Borealis stones are especially well-suited for use as pool decks, although they also can be used to create memorable patio spaces. This series comes in Hazelnut Brandy, Sauvignon Oak, and Smoked Pine finishes.
Eva Series
The distinctive surface of the Eva Series is designed to look like a mix of slate and flagstone. These stones are weather resistant and do well as driveway or patio pavers. Because they come in different sizes, they can be used to create modular patterns as well as more traditional ones. This series comes in Champlain Grey, Chestnut Brown, Harvest Gold, Mojave Beige, Sandlewood, and Shale Grey.
Travertina Series
For those who want the look of traditional travertine but prefer the easy care that comes with concrete, the Travertina Series offers a compromise. This attractive series is extremely durable and is perfect for patios and other outdoor installations. It comes in Ivory, Riviera, and Rock Garden Brown finishes.

Need help to find the materials you need to begin – and finish – your job? Do not hesitate to call Angelo's. We are here to make your purchase as easy and seamless as possible. You can also reach us by the live chat function on this page or by sending a message from our Contact Page. Whatever form of communication is easiest for you, we are available! Call the Pro's at Angelo's at 1-800-ANGELO-2

6 products in this category, displaying products 1 to 6.

-->