Interlocking Brick Paver Accessories
Here you will find all of the Accessories for Interlocking Brick Paving Stones that we carry here at Angelo's Supplies/SiteOne. We are here to help guide you and provide you with all your brick paving needs, for commercial applications, business complexes or unique backyard getaways, Angelo's Supplies/SiteOne can supply everything you need to get the job done.
Choose from our in stock accessories such as Loctite PL Premium Paver Adhesive, Polymeric Sweeping Sand, Aluminum Interlocking Curv-Rite Brick Paver Edging, as well as Plastic Brick Edging and the 12" spiral stakes to hold the edging in. Finally for that final touch Brick Paver Cleaners, and Breathable Concrete or Brick Paver Sealer. Angelo's / SiteOne also offers the sprayers for sealing your brick paver patio or walk, or the most common way with the foam roller.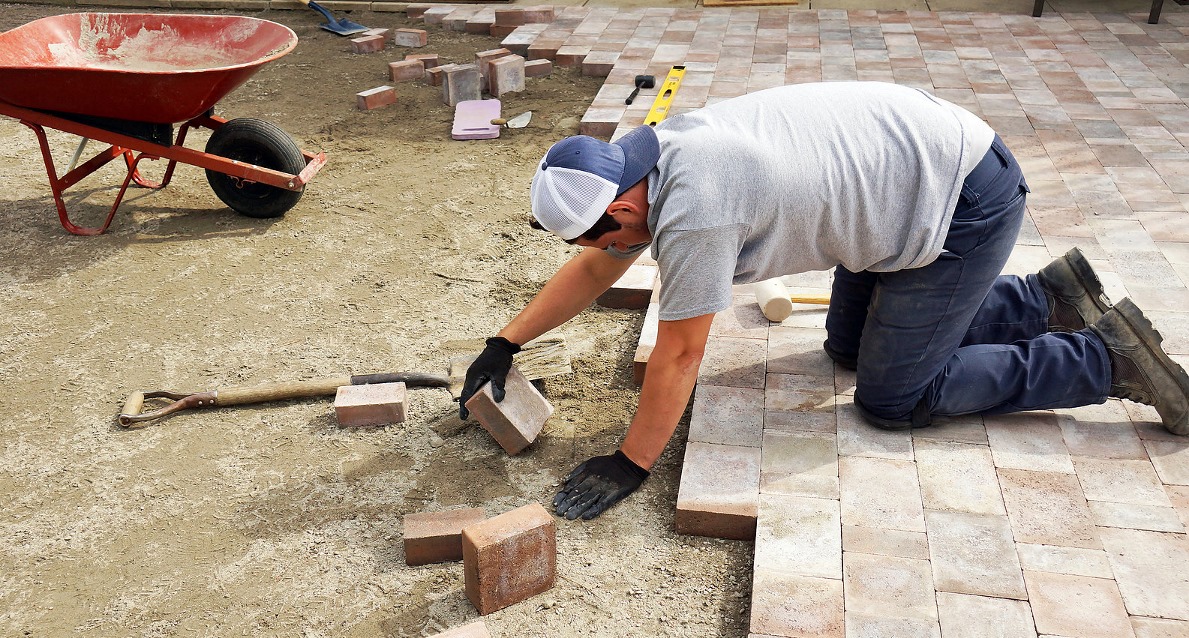 What Brick Paver Accessories Are Available at Angelos?
You can find all your brick paver accessories at Angelos. The tools and necessities they carry are paver adhesives, brick paver edging, sand, sealers, and cleaners. They also offer paver lights to light up the beautiful project you just completed. There is a range of products to choose from to meet any needs you may have.
What Does Paver Adhesive Do?
Paver adhesive delivers a quick and easy solution for securing block walls and capstones and for bonding brick, stone, metal, wood, timber, and concrete. Exterior, heavy-duty, premium quality adhesive is designed to meet any interior or exterior projects and may be used under a variety of temperature conditions and moistures. It's a quick and easy solution for installing the final course with landscape blocks or the installation of cement paving stones and is particularly effective when bonding irregular surfaces or bridging gaps between surfaces.
What's the Point of Paver Edging?
Paver edging is very important in preventing the pavers from moving within the perimeter. Paver edging prevents the pavers from spreading caused by the force of foot traffic, ground movement, or cars. If edging is improperly placed, the pavers move, the joints open up, and the interlock between pavers is lost. This causes them to spread, lift, sink, and shift. If the damage is not addressed quickly, the damage will quickly spread and the repairs may become more costly.
Why Get Paver Lights?
The use of paver lighting in any outdoor improvement will enhance the aesthetic appeal of an area dramatically. This new innovation in outdoor lighting has helped create unique and more functional outdoor areas. Not only are paver lighting appealing to the eye, but they also deliver countless benefits. Paver lighting is considered as an eco-friendly and economical option for outdoor lighting. They can withstand the harsh outdoor environment and can be used in a variety of applications. It is also considered safe because of this type of lighting uses low-voltage electricity and some even depend on solar energy. This allows property owners to save greatly on electricity cost.
Are Sealers and Cleaners Necessary?
Sealers are necessary because they fill the pores in your grout lines and brick surfaces so they do not absorb spills or oily surfaces. The sealer will not change the appearance of the surface but will protect the surface from a deep and permanent stain. Without the sealer, it can be very difficult to clean or extract the soils once they penetrate the surface.
Over time, dirt and debris may pile up on landscaping projects to the point where we can't even tell how much cleaning they really need. A cleaner is necessary for restoring the surface and keeping your project looking new. Keeping your project cleaned and sealed will make certain it keeps its aesthetic appeal and reduces any possible damage or corrosion.
Is Sand Necessary?
Sand is necessary for filling in the joints and interlocking the units to preserve the beauty and integrity of the pavers. The layers of sand lock in place to prevent erosion or movement of the pavers. At Angelo's, you can purchase sweeping sand, joint sand or Polymeric sand depending on what your needs are and what you can afford. Sweeping Sand, Jointing Sand is a polymer-modified graded sand for filling between interlocking pavers, brick, patio blocks and concrete slabs. Polymeric sand is a mix of graded sand and binding agent to improve the durability of the pavers to give them more strength in the long haul and can also deter weed plants or ant hills.

Need help to find the materials you need to begin – and finish – your job? Do not hesitate to call Angelo's for any questions or concerns regarding Brick Paving and it's accessories. We are here to make your purchase as easy and seamless as possible. You can also reach us by the live chat function on this page or by sending a message from our Contact Page. Whatever form of communication is easiest for you, we are available! Call the Pro's at Angelo's at 1-800-ANGELO-2

-->